Physical Rehabilitation in Norfolk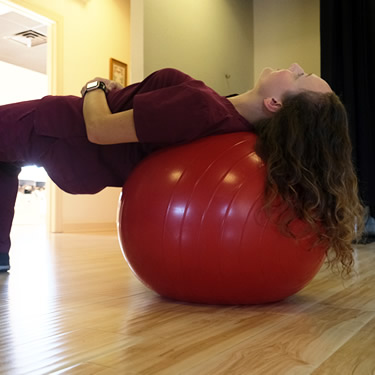 In addition to chiropractic care, Norfolk Chiropractic Center specializes in physical rehabilitation. We offer care to those with acute injuries as well as people with post-operative needs.
Our approach to physical rehabilitation involves restoring strength, endurance, and flexibility to your body following loss of function. Whether you need spinal stabilization or neck stabilization – we have something for you.
Learn more about our rehabilitation programs and what they might be able to do for you.
Our Programs
We provide two different rehabilitative programs. These programs include core stabilization and neck stabilization.
Our core stabilization program relies on physio balls. Each patient sits on a physio ball and completes a series of three exercises. Once they have mastered one group of movements, they move on to the next group of three. This process continues until they have successfully completed all three series of exercises without assistance.
Similar to our core stabilization program, our neck stabilization program focuses on the mastery of three different groups of exercises. However, rather than physio balls, this program relies on resistance bands. We use TheraBand protocols to move each patient through first, passive rehab and then, active rehab.
Each of our physical rehabilitation staff members are well-trained in Theraband protocol. You are in the best hands with us on your side.
Additional Support
Most people that come to us for physical rehabilitation are deconditioned due to injury or surgical recovery. Here at Norfolk Chiropractic Center, we believe that soft tissue work and core stabilization are essential components of the healing process. Our hope is to get the spine functional through chiropractic care and give it additional support through either of our rehabilitative programs.
How to Prepare
We suggest that you come to appointment in comfortable clothing that you can move in. Exercise clothing is most often preferred.
Our practice works with most major insurance companies. Please note that many health plans provide rehabilitation coverage. Be sure to contact us about your individual benefits.
CONTACT US »
---
Physical Rehabilitation Norfolk VA | (757) 622-8777