New Patients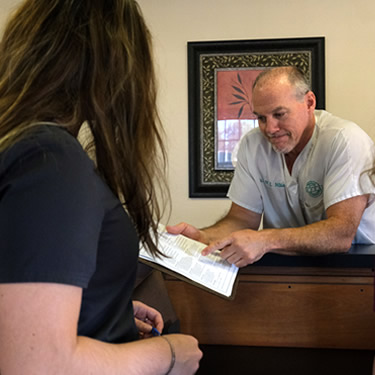 Norfolk Chiropractic Center welcomes a wide range of patients to join an honest and caring practice. We are committed to helping our patients live comfortably. Our practice is here not only to get you out of pain, but to get you out pain quickly.
Becoming a patient with us is simple. In just one appointment, you can be on your way to increased comfort.
New Patients Welcome
Your initial visit with us will be dedicated to getting to know you and evaluating your current condition. Upon arrival, you will be greeted and asked to complete any necessary intake paperwork. These forms are available online if you choose to complete them ahead of time.
Once your paperwork is done, you will meet with Dr. Niblo for your one-on-one consultation.
During this discussion, Dr. Niblo will ask about your health history and current condition. He will then perform a non-invasive physical examination to better understand your needs. You may require X-ray imaging at this time. After your thorough evaluation, Dr. Scott will take a look at any recent diagnostic studies that have been done regarding the area of complaint. Then, he will review your examination results and share your report of findings.
Your report of findings will include an honest opinion of your candidacy for chiropractic care. If Dr. Niblo believes chiropractic care might benefit you, he will proceed with a suggested plan of care. Depending on your condition, your first appointment will end with an individualized chiropractic adjustment. Please set aside 45 minutes for this visit.
Ongoing Care
Typically, our care plans are between four and six weeks long. Frequency of care is entirely dependent on each patient's needs. Ongoing appointments are straightforward, lasting anywhere from 10 to 15 minutes in duration. They include an evaluation, chiropractic adjustment, and any other needed modalities.
We want you to feel as comfortable as possible while under our care. Be sure to ask any questions that arise throughout your time with us. If you are ready to join the Norfolk Chiropractic Center community – contact us today!
CONTACT US »
---
New Patients | (757) 622-8777